Waar die Berig Begin het
Media Dekking oor die Waarheid
Dr. Susan Vosloo, Suid-Afrika se eerste vroulike hartchirurg en 'n vooraanstaande dokter wie se mening wyd gerespekteer word, sê in die video (https://www.bitchute.com/video/RxlhN8OcQqBn/) op die BitChuteplatform
onder andere dat die "entstof nie ingebring is vir Covid nie, maar dat Covid ingebring is vir die
entstof".
Die video vorm oënskynlik deel van 'n paneelbespreking waaraan Dr. Vosloo deelgeneem het.
Dr. Vosloo sê ook golwe van die virus – wanneer dit sal kom en gaan – word voorspel en dat 'n "mens wonder hoe dit gebeur".
Volgens Dr. Vosloo is nog 'n nuwe ervaring vir diegene in gesondheidsorg die feit dat die siekte deur politici, burokrate en akademici "wanbestuur" word en aangevuur word deur genadelose bangpratery deur die media.
Sy sê voorts dit lyk of daar nie 'n behoefte was om pasiënte te behandel, lyding te verlig of dood te voorkom nie en dat die entstof voorgehou is as die enigste redding.
Vosloo sê mense word ook nie ingelig oor die moontlike gevare verbonde aan die entstof nie. Sy verwys onder meer na skade wat op mikroskopiese vlak aangerig word, ernstige neurologiese komplikasies, asook ginekologiese komplikasies waarvan die ergste onvrugbaarheid in die toekoms kan wees.
Vosloo sê voorts in die video dat die samestelling van die entstof grootliks vertroulik is, soos "die speserymengsel vir Kentucky Fried Chicken".
Sy sê mense kies onder meer om die entstof te ontvang omdat hulle byvoorbeeld wil reis of meer vrylik wil rondbeweeg, maar dat die dra van maskers desnieteenstaande steeds verpligtend is en mense steeds nie reis nie – of hulle nou ingeënt is of nie.
Vosloo sê die oplossing lê daarin dat mense self moet besluit of hulle die entstof wil neem en bewus moet wees van die gevolge van dié besluit. (Krediet aan Maroela Media )
---
Ons by TruLight staaf al lankal : click op die skakel om die artiekel te lees
No Certificate means No access to Public Place = No Buying and Selling allowed without certificate – makes this certificate the Mark of the Beast in the right hand or forehead front-runner .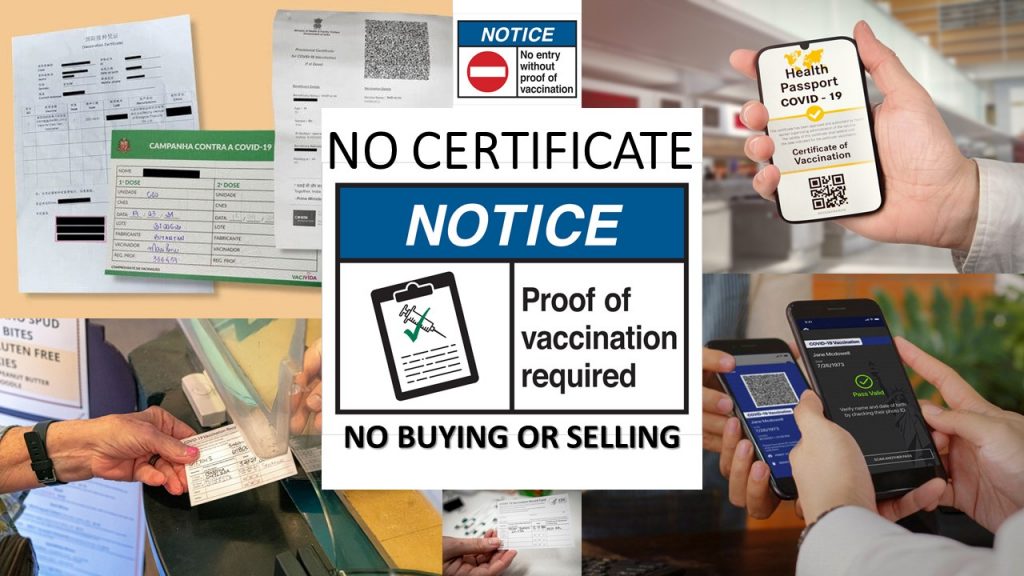 ---
So word dit ook bevestig deur ons Dokter : click op die skakel om die artiekel te lees
---
More Info : Click on the Link to watch this warning
Rumble — Ryan Cole MD
AFLDS PHYSICIAN
A scientific clarification of what these injections do in the head and other organs of the vaccinated people
https://rumble.com/vkopys-a-pathologist-summary-of-what-these-jabs-do-to-the-brain-and-other-organs.html
---
---
Luister gerus na dié onderhoud met 'n bekende neuro chirurg, Dr Herman Edeling
Hierdie ouens wat weet sê daar is belangrike implikasies wanneer 'n "genetiese materiaal" voorgehou word as a "vaksiene", wat dit nie is nie, en wat die funksie van ligaamselle manipuleer, vir 'n onbekende tydperk – en die inhoud van die materiaal is 'n kommersiële geheim.
Die korttermyn effekte is teleurstellend en die langtermyn effekte is totaal onbekend.
Statistieke oor gesondheids afwykings by mense wat ingespuit is, word nie gepubliseer soos die gewone infeksies getalle by mense nie.
Verskillende standaarde word aangewend om verskillende hulpmiddels teen die siekte te beoordeel.
Daar bestaan ook ongemaklike simptome wat mense ervaar deur in kontak te gekom het met ingeënte persone. Ingeënte persone isoleer hulle nie nadat hulle ingeënt is nie – dit is 'n belangrike probleem. Hulle word self ook meer vatbaar vir siekte vir ten minste 2 weke na enting.
Bloed Ontleding wys abnormale gebeure in die Bloed na Vaccine