Oggend Boodskap 25 Feb 2020
Hoe Kwalifiseer jy om by die Bruilofsmaal van die Lam te wees ?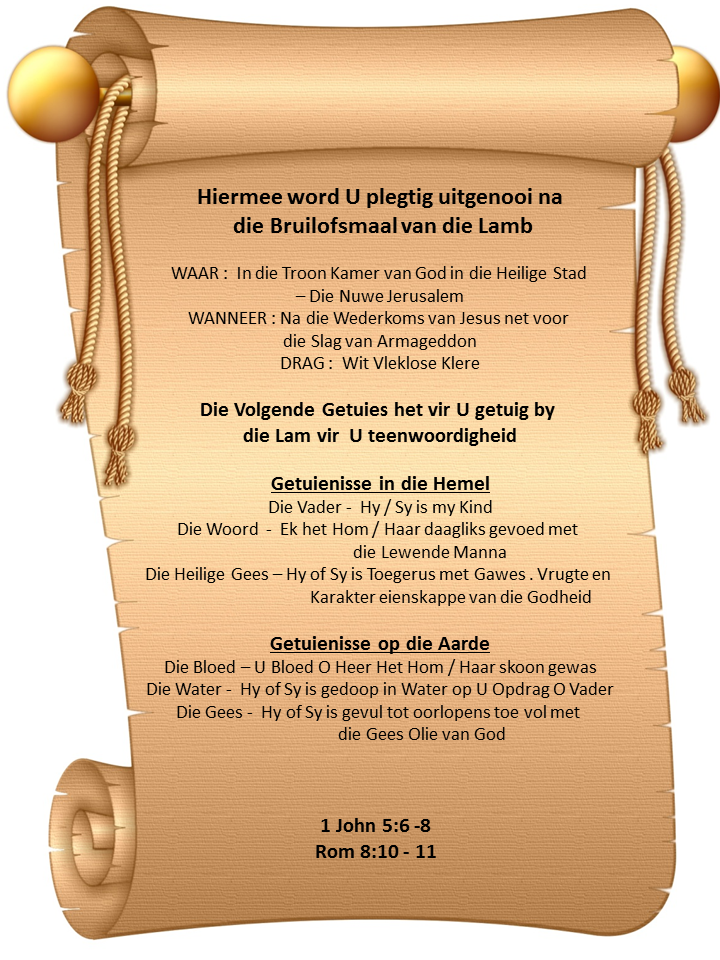 Hiermee word U plegtig uitgenooi na
die Bruilofsmaal van die Lamb
WAAR : In die Troon Kamer van God in die Heilige Stad – Die Nuwe Jerusalem
WANNEER : Na die Wederkoms van Jesus net voor die Slag van Armageddon
DRAG : Wit Vleklose Klere
Die Volgende Getuies het vir U getuig by die Lam vir U teenwoordigheid
Getuienisse in die Hemel
Die Vader – Hy / Sy is my Kind
Die Woord – Ek het Hom / Haar daagliks gevoed met die Lewende Manna
Die Heilige Gees – Hy of Sy is Toegerus met Gawes . Vrugte en Karakter eienskappe van die Godheid
Getuienisse op die Aarde
Die Bloed – U Bloed O Heer Het Hom / Haar skoon gewas
Die Water – Hy of Sy is gedoop in Water op U Opdrag O Vader
Die Gees – Hy of Sy is gevul tot oorlopens toe vol met die Gees Olie van God
1 Jn 5:6 -8
Dit is Hy wat deur water en bloed gekom het, Jesus die Christus; nie deur die water alleen nie, maar deur die water en die bloed; en dit is die Gees wat getuig, want die Gees is die waarheid. Want daar is drie wat getuig in die hemel: die Vader, die Woord en die Heilige Gees, en hierdie drie is een en daar is drie wat getuig op die aarde: die Gees en die water en die bloed, en die drie is eenstemmig.
Rom 8:10 – 11
Maar as Christus in julle is, dan is die liggaam dood vanweë die sonde, maar die gees is lewe vanweë die geregtigheid.
En as die Gees van Hom wat Jesus uit die dode opgewek het, in julle woon, dan sal Hy wat Christus uit die dode opgewek het, ook julle sterflike liggame lewend maak deur sy Gees wat in julle woon.