The Black Pope , the Real Leader of the Illuminati / Free Masons and controller of the Knights Templar , Knights of Malta , Jewish Knights and other Christian Knights orders are taking over the Church at a alarming rate. Uneducated Christians are falling in their traps with bravado tactics and feeding the Christian fear with false spiritual battle!
This article and links to related articles need to be circulated to all Christians to get the spirit eyes and ears open !
Christians are being mislead and Killed spiritually believing a array of false doctrines from the Vatican and Roman Catholic Church that infiltrated the Protestant . Pentecostal and Charismatic churches.
Jesus confirmed he does not need Warriors to Fight ! Joh 18:36 Jesus answered, My kingdom is not of this world: if my kingdom were of this world, then would my servants fight, that I should not be delivered to the Jews: but now is my kingdom not from hence.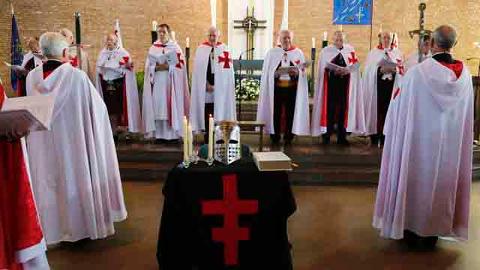 Other Articles related to this subject
CAN YOU BELIEVE THIS ! Here they confirm that this Gothic Blanket is sold by the Templar Knights but stupid Christians order them by the 1000s . The Templar Knights are a division of the Illuminati / Free Masons under the Black Pope / Black Horsemen of Revelation 6 . But Christians spend Gods money toward purchasing satans blankets . https://templaran.com/products/hqd-qhg000082?fbclid=IwAR3ZgvB2Dh2bqjDkEYRKhzyaa35MjJHx_WdcksP5oHAS2ncBFswiqda4RE8
Knights of Malta and Templar Knights in the Church
The Black Pope , The Horsemen of the Black Horse
The Holy Roman Empire New World Order
FALSE DOCTRINES UNDER THE TEMPLAR KNIGHTS / MALTA KNIGHTS AND OTHER KNIGHT ORDERS
The New Apostolic Reformation Movement with their 7 Mountains MANDATE


The Christian Zionist Movement
The Kingdom Now Movement
Kingdom Now – The Kingdom of God on Earth – 1000 Year Earthly Reign
The Templar Knight Gothic attack against Christian Men and Woman